157 participants from 23 countries joined New Energy Events and our co-hosts from CABEI and the IDB for the inaugural Central American Renewables Investment Summit (CAMRIS). With a very high turnout from finance providers – multilaterals, private equity firms and commercial banks – one of the themes which emerged was the abundance of capital which is seeking to deploy. Bankability, and not the availability of capital, is the critical issue in the region. Elsewhere, investment roadshows presented by government officials from every country in the region, including Mexico and Colombia, underscored that as we look forward there will be a substantial pipeline of projects to finance; pan-regionally, national targets for renewable penetration are high and intermittents are in favor.
Dates for CAMRIS 2016 will be announced shortly. In the meantime we would like to thank our speakers, our partners and sponsors – and in particular, CABEI, the IDB, SunEdison and Celsia – and our delegates who made the leap of faith and joined us in our first year.
Presentations, which are arranged on a session-by-session basis, can be accessed below: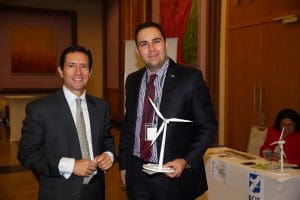 BILATERAL & MULTILATERAL FINANCING WORKSHOP
Private Sector Workshop
Jean-Marc Aboussouan, Division Chief, Infrastructure and Energy, Inter-American Development Bank (IDB) – Presentation
Eduardo Cuevas, Country Head, Guatemala and El Salvador, International Finance Corporation (IFC) – Presentation
Paul Centeno Lappas, Regional Head, Mexico, Central America and the Caribbean, Proparco – Presentation
Brian O'Hanlon, Director of Business Development, Renewable Energy and Sustainable Development – Overseas Private Investment Corporation (OPIC) – Presentation
Robert Voskuilen, Senior Investment Officer, Energy, Latin America, Southern & East Africa, FMO (Netherlands Development Finance Company) – Presentation
Gunter Fischer, Senior Investment Officer, Global Energy Efficiency and Renewable Energy Fund (GEEREF) – Presentation
Public Sector Workshop
Otto Gutiérrez, Private Sector and Credit Lines Facilities Coordinator, Central American Bank for Economic Integration (CABEI) – Presentation
Katsuhiko Shino, Deputy Representative, JICA Nicaragua, Japanese International Cooperation Agency (JICA) – Presentation
SIEPAC: A REGIONAL DRIVER FOR RENEWABLES DEVELOPMENT?
Mario Cerna, Senior Energy Specialist, Central American Bank for Economic Integration (CABEI) (Panel Chair) – Presentation
HOST COUNTRY INVESTMENT ROADSHOW – PANAMA
Fernando Díaz G. de P., Eng., Director of Electricity, National Energy Secretariat – Panama – Presentation
Iván Barría Mock, General Manager, Empresa de Transmisión Eléctrica, S.A. (ETESA) – Presentation
Moisés Cano, Head of Wholesale Electricity Division, National Public Services Authority (ASEP) – Presentation
PROJECT SPONSORS: A NEW ERA OF SOPHISTICATION
Jay Gallegos, CEO, Globeleq Mesoamerica Energy – Presentation
FINANCING CENTRAL AMERICAN RENEWABLES AND CATALYZING INVESTMENT
Ben Moody, President & CEO, Pan American Finance (PAF) – Presentation
ENERGY STORAGE AND THE FUTURE OF CENTRAL AMERICAN GRID STABILITY
Bruce Tsuchida, Principal, The Brattle Group – Presentation
Julio Diaz Cohen, Commercial Risk and Planning Director for MCAC SBU (Mexico, Central American & Caribbean), AES Energy Storage – Presentation 
NICARAGUA ROADSHOW
Jaime Muñoz, Vice President, Renewables Association of Nicaragua; Director, Asofenix – Presentation
EL SALVADOR ROADSHOW
Luis Roberto Reyes Fabian, Executive Secretary, National Energy Commission – Presentation
Emmanuel Pujol, Director General, Central America & Mexico, Neoen – Presentation
Oscar Rafael Funes Engelhard, President, Asociación Salvadoreña de Energías Renovables (ASER) – Presentation
GUATEMALA ROADSHOW
Silvia Alvarado de Córdoba, Director, National Commission of Electric Energy of Guatemala – Presentation
Fernando Arévalo, Director of Renewables, Ministry of Energy & Mines of Guatemala – Presentation
COSTA RICA ROADSHOW
Laura Lizano, Director of the Energy Sector, Ministry of Environment and Energy of Costa Rica – Presentation
Hernán Diaz Del Castillo Fernández, Head of Structured Finance, Banco Nacional de Costa Rica (BICSA) – Presentation
HONDURAS ROADSHOW
Oscar Enrique Kafati, Member of the Board of Directors, Asociación Hondureña de Productores de Energía Renovable (AHPER) – Presentation