We've seen a surge in the number of submissions for the 3rd Annual Caribbean Renewable Energy Forum (CREF) Industry Awards — more than 20 this year — that reflects real momentum in the Caribbean. We now have two years of awards behind us, and a healthy history of innovative projects from leaders in the region who are deftly carving out a path for investment in clean energy.
We went back to some of our past CREF award winners to get their take on market growth and priority areas to tackle that will unlock more clean energy investment in the region.
What's in the pipeline?
Utilities, policymakers, and developers are each doing their part to drive progress in the region.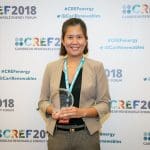 "We are focused on improving uptake and increasing the infusion of renewables into the grid—through distributed generation and utility-scale projects," said FortisTCI Vice President of Innovation, Technology, and Strategic Planning Rachell Roullet. The utility, which received the 2018 CREF award for Best Distributed Generation Project (for their Utility Owned and Customer Owned Renewable Energy programs), is also engaged in a country-wide multi-stakeholder effort to improve the market. "Fortis TCI is working closely with the Turks and Caicos Islands government to update relevant policy and regulations that will aid the uptake of renewable energy," said Roullet.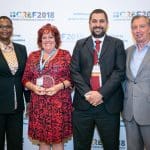 Energy efficiency remains a vital—yet underutilized—path to a cleaner grid. Loreto Duffy-Mayers, Project Lead for the Caribbean Cooling Initiative with UN Environment, has years of experience helping large energy users (primarily hotels) reduce their energy footprint. She received the 2018 CREF Award for Best Energy Efficiency Project for her leadership on the Caribbean Hotel Energy Efficiency Action Program (CHENACT). "Right now, I'm leading the UN Caribbean Cooling Initiative (CCOOL) for five islands—Barbados, Bahamas, Jamaica, St. Lucia, and the Dominican Republic," said Duffy-Mayers. "The program has two main aims. First, to assist governments in the five countries to transition to more efficient air conditioning and refrigeration systems, and second to phase out those refrigerants currently in use which are causing global warming and support the adoption of more environmentally friendly refrigerants."
Energy storage and microgrids are continuing their surge in the market, and three of our past CREF award winners are a big part of that growth.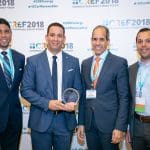 Fluence Energy was part of the team that received the 2018 CREF Award for Best Energy Storage Project (Andres and Los Mina Advancion Energy Storage Arrays in Dominican Republic) and has continued to grow its portfolio, currently focused on energy storage for grid stability and renewable integration in Puerto Rico, Dominican Republic, and Cayman Islands—to name a few. "I'm most excited about helping to reduce the dependency on imported energy, and maximize the use of local sources of energy," said Tim Effio, Market Director for Fluence.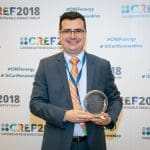 Jesus Martinez-Cantu, Business Development and Sales Manager with SMA America, is pushing for more market growth for microgrids and resilient ancillary services for electric grids. "The private sector is pushing for a reliable grid because this is critical for their operations," said Martinez-Cantu. SMA American is part of the team that received two 2018 CREF Awards—Best Microgrid Project (Mirebalais Hospital, Haiti) and Best Project Addressing Social and Environmental Impacts (UNICEF Haiti solar project).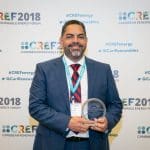 Soventix, recipient of the 2018 CREF Award for Best Utility-Scale Solar Project for the Monte Plata Solar plant in the Dominican Republic, is involved in renewable energy storage projects in Puerto Rico. "This is definitely boom-time for renewable energy technology and energy storage," said Arnaldo Bisono, Business Development Manager with Soventix. "We're focused on helping the region build smarter and more resilient power infrastructure, so recovery is faster in the future."
What are the priority areas that could unlock the market?
Policy and regulation
The top challenge across the board is that the widespread adoption of clean energy is still a relatively new concept for many Caribbean islands. "Having a current and up to date regulatory environment is key to unlocking the market," said Roullet. Many islands, including Turks and Caicos, are engaged in policy and regulatory reform. Ensuring key stakeholders have an aligned vision on critical issues – price and resiliency, for example – is necessary for meaningful change. If done right, we could see a substantial uptick in market development.
Information sharing and education
"We have a lot of education to do around new energy-saving technologies," said Duffy-Mayers. "There is also a real lack of information sharing, which hinders the growth of climate-friendly energy solutions." Improving knowledge sharing and market transparency will strengthen the regional market for all stakeholders.
Affordability
Caribbean islands are no stranger to high energy prices, with fluctuating cost tied to the price of oil and gas. Can clean energy lessen the overall cost of energy for consumers? Two developers note it's a critical piece of clean energy development. "Clean, resilient island grids must also be affordable for energy customers," said Bisono. Effio agrees, stating that "The true challenge comes in how we can create a cleaner, more resilient energy infrastructure at a cost that makes sense for the consumer."
---
Winners of the 3rd Annual CREF Industry Awards will be announced at the Caribbean Renewable Energy Forum in Miami on October 16.