Weeks after Irma and Maria plowed through the Caribbean, over 500 regional and international leaders gathered in Miami for the 2017 Caribbean Renewable Energy Forum. Dialog between stakeholders is increasingly sophisticated and the pipeline of projects is deepening, but now there is a new urgency around discussions driven by the need for islands to rethink the approach to resilience. Today we share with you our top takeaways from CREF 2017 and what the future of renewable energy development looks like for the region.
Supporting reconstruction on islands devastated by Irma and Maria is a critical priority. On some islands – Dominica, Puerto Rico and Barbuda, for example – the lights are still out. The news cycle has – as we knew it would – moved on. The better news is that new sources of capital are coming online, some from old friends of the region – the CDB, World Bank, IDB, and others – some from new benefactors. Sir Richard Branson – who attended CREF this year – is probably the most visible example with his New Deal proposal for the Caribbean. Multiple foundations and foreign entities are scrambling, still, to help. That in itself creates extraordinary challenges: how to streamline international efforts so that regional governments and utilities are empowered and enabled to make swift and sound decisions which get the lights back on – and keep them on? Ultimately the consensus at CREF this year was that leadership must come from the Caribbean.
For all islands, resilience is an inescapable priority. The Caribbean has been hit by hurricanes before and resiliency was always baked into utility planning. Irma and Maria have, however, elevated the priority: in a live poll, we asked whether the passage of Maria and Irma has permanently changed the regional conversation around the procurement and construction of generation assets in the Caribbean. 76% responded that it had. There were very few discussions at CREF this year – whether around financing, risk, permitting, solar or storage – which didn't feature resiliency as a central component. The market sees opportunity for new energy sources and new delivery models, including non-wires alternatives, and regional stakeholders are keen to explore the reality in their jurisdictions. Over the next few months we will learn whether this is in fact a passing fad or whether this year's shocking weather events fundamentally alter the trajectory of investment in resilient infrastructure across the Caribbean.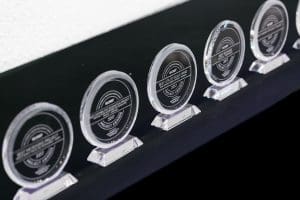 The Caribbean has moved from a "What If?" to a "What's Next?" region. From utility-scale to a network of distributed generation projects, the Caribbean renewables sector is beginning to realize its potential. The first CREF Project Awards recognized the best and brightest projects from the Caribbean across eight categories, from best utility-scale solar (Antigua and Barbuda) to best energy efficiency program (Barbados). Don't get us wrong: developing projects in the Caribbean is still no cakewalk. But as a region the Caribbean has convincingly demonstrated across a range of technologies and jurisdictions that it can procure, permit, finance and construct projects with the best of them.
Interest is strong – and growing. CREF attendance is an annual gauge of interest in renewables in the Caribbean. This year we saw record numbers – over 550 registrants – a metric which supports the suggestion that the market is taking off. And which sectors will see the most growth? A live poll at CREF this year asked that question of our delegates, 57% of whom felt that utility scale projects represent the single biggest opportunity, followed by C&I – with particular excitement around prospects to work with the region's hospitality sector.
The emergence of real stakeholder dialog. During the pre-CREF stakeholder meetings, one well known utility executive asked why the policy-maker meeting was taking place independently of the utility CEO meeting. We should be in a room together, he said. It was a sentiment which echoed around CREF this year. Historically, policy-makers, regulators, and utilities have – with a few exceptions – operated in near-vacuums. That's changing. Driven by leadership from CARILEC and CARICOM – there's real dialog between stakeholders and a broader understanding of critical issues driving each counterparty.
This needs to be nurtured: get this right and we set the stage for increased investment and island grids which are efficient, reliable and resilient.