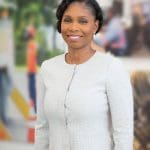 Following her recent appointment as the new President and CEO of FortisTCI, we sat down with Ruth Forbes to talk about the clean energy transition in the Caribbean, her priorities for the Turks and Caicos utility, and how women can take a bigger role in the energy sector.
You joined FortisTCI in 2006, and have seen the utility grow as a trailblazer in clean, resilient energy. In your new role as President & CEO, what will your top priorities be for your first year? In the longer term?
I am excited and looking forward to this new journey with the FortisTCI team as President and CEO. This is certainly a unique time to be taking over, with the world grappling with a global pandemic. My first and most immediate priority is successfully navigating COVID-19, and all that is emerging as a result. Maintaining employee health and safety, managing our operations during this economic downturn such that the company continues to deliver one of the most reliable energy products to customers, and enhancing the digital experience from a customer service perspective are all critical at the moment.
Beyond managing the coronavirus pandemic, resiliency and sustainability are high on the list of priorities for us at FortisTCI. In 2018, working alongside the Turks and Caicos Islands (TCI) Government and the Rocky Mountain Institute, we crafted the TCI Resilient National Energy Transition Strategy (R-NETS). We look forward to continuing the work with partners to meet the renewable energy targets outlined over the next 20 years. This focus also means that we are increasing the uptake of solar and getting to 30% renewable energy by 2040 to provide a cleaner energy option for the country while enhancing the energy product. As we move into the future, resiliency will also continue to play a significant part in how we invest.
Finally, another priority of mine is a focus on people – on the employees, our customers, and other business partners. This is a top priority for this year and beyond because the people you work for and work with are vital to the business. I believe that a company can only be as successful as its people. We have an amazing team of professionals at FortisTCI who I am proud to lead. They are passionate about what they wake up every day and go to work to do.
I am focused on nurturing that passion within the team, working together, and embracing our creativity, to achieve our vision of 'Transforming Energy in the Turks and Caicos Islands.' While we make this happen, there will be opportunities to forge new partnerships and deepen our relationships with our customers, other stakeholders, and the communities we serve, and this will certainly get our full attention.
How has Covid-19 impacted the utility? What long-term impacts do you anticipate for the Caribbean energy industry?
The world will feel the economic impact of COVID-19 for some time. Across the Caribbean, our tourism-dependent economies will take some time to recover from the economic fallout of the pandemic lockdowns, and the changes to business that have resulted. However, I see many opportunities ahead and believe that we will get through this period of uncertainty.
As a result of the closure of borders, imposed lockdowns, and new health guidance, what we have seen emerge at FortisTCI is a push toward a remote and more digitized environment. And the reliance on technology is massive.
Business operations have drastically shifted, with many employees working remotely from home or having to work in smaller teams to mitigate the risk of exposure and spread of coronavirus.
How we serve our customers and engage with key stakeholders has also been overhauled, and it is now a virtual experience. These changes have transpired in a relatively short period, and we continue to adjust where necessary. But, I see these changes as growth opportunities that can be enhanced over the long-term, because this will be our mode of operation for some time still.
Outside Covid, what would you say are the biggest challenges facing the Caribbean energy industry today?
Two of the most significant challenges facing the Caribbean energy industry are resiliency and the pace at which the necessary transition to renewable energy can take place. Natural disasters like hurricanes are coming more frequently, and they're far more destructive. We must ensure that our systems can withstand these forces and that we can rebound in a reasonable time because electricity is necessary for recovery after such a disaster. Without it, we are all at a standstill.
On the matter of renewable energy transition, I believe that Caribbean utilities generally recognize the imperative for making this happen, from the perspectives of energy independence, environmental sustainability and quite frankly, the necessity to adapt to emerging utility business models driven by the 3Ds – decarbonisation, decentralization and digitalization.
While renewable energy integration has been gaining momentum across the region, existing legislation is often at odds with the pace of change in the industry. Consequently, there is an urgency for governments, regulators, and utilities to come to the table and develop and implement legislation that will modernize the industry and create an environment in which the 3Ds can thrive.
Fortis TCI designed innovative distributed energy programs, which proved very popular with utility customers. What can the market expect in terms of distributed generation opportunities going forward?
Distributed generation, particularly renewables such as solar PV, will grow in capacity and presence in the coming years. Consumer adoption will also accelerate, due to decreasing system investment requirements, increased efficiency, and reliance on technology, such as solar modules and batteries.
FortisTCI has been making significant inroads in renewable energy over the past few years with our distributed energy programs, so much so that our CORE and UORE programs were recognized in 2018 as the Best Distributed Generation Program by the Caribbean Renewable Energy Forum. We see additional opportunities to increase customer uptake of these programs, to take us well beyond the 1MW of solar PV that has been installed on our grid as a result of our UORE program. The electrification of transportation in the TCI is another area of opportunity, as well as solar plus battery initiatives, and we have started investing in both.
An advanced regulatory framework for the TCI, with modernized renewable energy legislation, will help to bring new options for customers and I am pleased to say that FortisTCI has been working closely with the TCI government to ensure that this becomes a reality in the near term.
As one of the few female Caribbean utility CEOs, you are a role model for aspiring women in energy. What advice would you offer to aspiring female energy leaders?
I want aspiring women in energy to know that they can excel to the heights they imagine for themselves. The glass ceilings have been broken, and it's up to you now to define where and how far you want to go. But know that hard work and sacrifice along the way will be necessary.
Determine your non-negotiables early and don't bend on them. Remember to remain true to your core values. Use them to really excel on the job. As you progress in your work, be confident, but don't be arrogant. You won't build allies that way. Treat everyone with respect and the way you would want to be treated.
It's also important that as a woman, you take a holistic look at life and the life you want to build because your career should fit into that chosen life. Making these conscious decisions will give you the space needed to be successful.
Finally, for so long, women haven't had a voice, but now we are leading the way.
I want to encourage you to be more deliberate about finding your voice, and don't be afraid of using it, because your outlook and uniqueness matter.