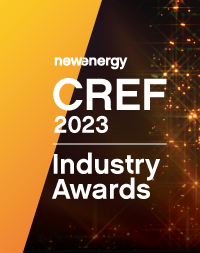 New Energy, organizers of the Caribbean Renewable Energy Forum (CREF), the largest gathering of the Caribbean energy market, is pleased to announce the 5th annual CREF Industry Awards. The Awards – which will recognize excellence in projects, programs and people driving forward the clean energy transition in the Caribbean – will be honored on stage at the 15th annual CREF in Miami on April 27, 2023.
The Awards were established to recognize stakeholders across the Caribbean who are making a lasting impact on the clean energy transition in the region. Submissions and nominations are encouraged from across the regional market to showcase, recognize and reward outstanding clean energy initiatives. The awards are free to enter and nominations will close on March 10, 2023.
"In a year of uncertainty and change – from shifting geopolitics and supply chain challenges, to high energy prices and market volatility – we've seen innovation and leadership across the Caribbean," said Matthew Perks, CEO of New Energy Events. "We're excited to invite submissions and celebrate efforts."

This year's categories are as follows:
2022 Energy Leadership MVP: Person who has demonstrated outstanding long-term leadership and commitment to a clean, resilient energy future in the Caribbean
Best C&I Project: Outstanding commercial or industrial clean energy project
Best Clean Energy Policy or Program: Recognizing the outstanding policy or multilateral program in the region supporting/accelerating the clean energy transition
Best Climate Finance Initiative: Best climate financing initiative, program or capital-raise
Best Distributed Generation Project: Outstanding DG project
Best E-Mobility Project: Outstanding public or private sector E-mobility project or program
Best Energy Efficiency Project: Outstanding energy efficiency project
Best Energy Resilience Project: Clean energy project featuring outstanding resilience
Best Energy Storage Project: Outstanding energy storage project
Best ESG-Optimized Project: Outstanding energy sector project featuring robust ESG as a core component
Best Financing: Best financing of a project
Best Green Hydrogen Project or Program: Outstanding clean hydrogen project or program
Best Microgrid Project: Outstanding microgrid project
Best Utility Scale Project: Outstanding utility scale clean energy project
Industry awards will be judged across a series of criteria, including innovative approaches to development, value to investors and customers, and social and environmental impact.
View the Awards site to submit entries to the 2023 CREF Industry Awards, or contact Jen for information on sponsorship opportunities. For more information on award criteria and questions on how to submit for an award, please contact Tara Egan at tegan@newenergyevents.com.

---
CREF 2022 Award Winners: