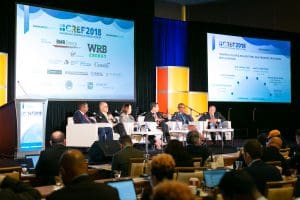 One year after Irma and Maria tore through the Caribbean, over 500 regional and international stakeholders gathered at the 10th Caribbean Renewable Energy Forum to grapple with the future of the regional energy sector, and how to make the Caribbean more resilient and more competitive.
On the 10th Anniversary of CREF, we also took a step back to consider how far we've come as a region over the past decade. We were excited to collaborate with Renewable Energy Caribbean on a 10-year infographic, which throws into sharp relief the progress we have (or in some instances, haven't) made. Ten years, in a nutshell, here.
Today, we share five takeaways from CREF 2018, and how the market is adapting in a period of rapid change.
Resiliency: There's no "one size fits all" solution
Leaders from some of the hardest hit islands — among them, the USVI, British Virgin Islands, Dominica, and Puerto Rico — took the stage to share experiences from an extraordinary and challenging year of rebuilding and revitalization. What's clear is that the conversation has permanently changed: building grids that are reliable, economic — and resilient — will be the defining issue for a generation of regional leaders.
Category 5 hurricane-resistant infrastructure is cost prohibitive and someone has to pay. Who? How do we harden regional grids without passing on significant costs to the consumer? One thing is certain: resilience looks different for each island. Dominica, for example, is making a push to be the first climate-resilient country using geothermal energy, a hardened grid with buried transmission lines, and solar and storage across the island. Other islands, including the USVI and Puerto Rico, are focused on increasing distributed energy for residential and commercial customers, and at critical facilities.
Solar and storage has biggest growth potential
In a live poll, we asked which generation source would see the most growth region-wide over the next five years—76 percent thought that solar and storage would win out. As islands continue to pursue renewables, dropping technology costs and relative ease of development will keep the spotlight firmly on solar and storage. A portion of this growth will come from the commercial and industrial (C&I) sector. C&I energy customers are looking to distributed solar and storage in larger numbers to meet energy requirements and assist in sustainability goals.
In another poll, we asked investors to identify which markets in the region they felt were poised for growth. Jamaica, Puerto Rico and the Dominican Republic topped the list. Guyana and Haiti also appeared in the top five. Guyana, newly oil and gas-rich, will have endless resources to draw upon for investment in infrastructure. It was particularly encouraging, though, to see investor interest turn towards Haiti. Pioneers like EarthSpark have paved the way for the next wave of investors to deploy in a market that is still very challenging, but has scale and huge growth potential.
Is a distributed grid the key to resilience?
In response to a live poll asking CREF delegates whether a centralized or distributed grid was more resilient, 64 percent gave the nod to a distributed grid. This is reflected in market activity where we see many islands exploring how distributed resources can play a larger role in island resiliency. As panelist Meghan Nutting of Sunnova explained, "The most fragile part of an energy system is the poles and wires. After a disaster, distributed solar and storage is the best bet for ensuring that consumers have electricity in their homes." Utility scale renewables may be a growth market, but the key disrupter is distributed energy.
Underpinning almost all discussions at CREF this year was an understanding that the regulators are the new game-changers. How are we going to pay for resiliency? Ask the regulator. How does DG mesh with the utility business model? Ask the regulator that, too. Simply put, regulators need to be brought into the fold and engaged in every conversation on the future of the regional energy market.
The power of the network: spotlight on women
Projects and programs have always originated from conversations on panels and in the hallways between sessions at CREF — and the community is stronger than ever. A new addition to CREF this year was the Women in Energy networking event. Women from across the region and beyond came together to discuss the importance of diversity in the energy sector and how to develop their own leadership potential. As the community continues to forge powerful networks like these, greater access to people and ideas will facilitate new opportunities and growth in the region.
An increasingly liquid and sophisticated market; what's next?
Conversations at CREF between regional and international market participants were sophisticated and informed. Capital providers were out in force. Cutting-edge technology companies were around every corner. This is not a market that lacks interest, ambition, resources, or an understanding of the issues. Truth be told, though, we're still lacking projects on the ground. Although we like the trajectory of the market, we need to do more to align these stakeholders, this knowledge and these resources into solutions to the critical questions: How are we going to pay for everything we want to do? And how do we structure markets so that everyone — utilities, investors, consumers — gets a piece of the pie? Answer those questions and we'll see stellar growth over the next 10 years.
What are your thoughts? Join the conversation on our CREF LinkedIn Group here.