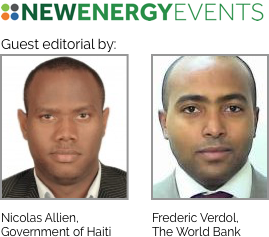 Recovering from successive natural disasters, Haiti vowed to rebuild a greener, stronger, more resilient and sustainable energy sector. This implies a drastic transition of the country's energy mix, currently relying on oil products for grid connected and autonomous power generation. The ultimate outcome will be increased access to clean, modern and reliable energy services for households, communities and enterprises to alleviate poverty while promoting new economic opportunities nationwide.
That's not just a catchphrase. Haiti's energy market is in a period of rapid transition driven in large part by the framing of a national Renewable Energy roadmap and Investment plan, the preparation of policy and fiscal incentives for the renewable energy market, and the commitment of funding from the Climate Investment Funds. Put another way, the Government – leveraging the support of several partners – is actively identifying and implementing solutions that will propel renewable energy development in Haiti.
As an investment destination, then, it's time to rethink and revisit Haiti. As resources are proven for solar, wind, hydro and biomass, opportunities for investors will be substantial. Riding the wave of decreasing technology cost and increasing Caribbean market scale, Haiti is preparing the ground for foreign investors and partners. The sustainable energy future of Haiti starts now. Are you with us?
Please join us at Haiti Sustainable Energy Forum, June 12-13, 2017.