Details & Pricing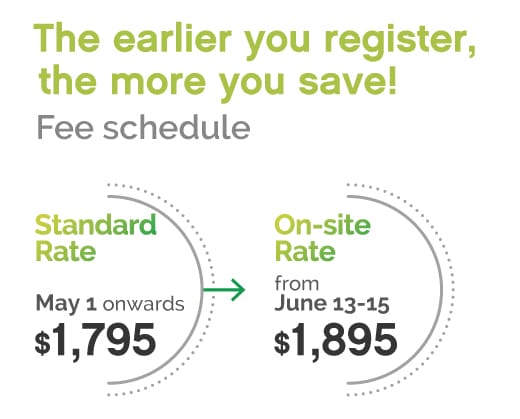 Tarifa de inscripción para el evento principal: $ 1,795 USD
Regístrese antes de que aumenten los precios el 13 de junio de 2023
Qué está incluido:
Contenido: Acceso a +25 sesiones, presentaciones y todos los escenarios del congreso.
Recepciones para establecer contactos: los descansos para establecer contactos y las recepciones nocturnas brindan a los asistentes la oportunidad de establecer conexiones con la comunidad #H2LAC y explorar las últimas iniciativas y soluciones sostenibles en el espacio de exhibición.
Inteligencia de mercado: acceso al índice Hinicio/New Energy Hydrogen Index 2022/23 completo para América Latina y el Caribe.
Networking Event App: envíe mensajes y organice reuniones con los asistentes, haga preguntas durante las sesiones, acceda a presentaciones de conferencias y mucho más.
Y Más Networking: Coffee breaks y almuerzos el 13 y 14 de junio.
Descuentos a ONG | Académico | Gobiernos
Nos complace ofrecer a los gobiernos, instituciones académicas y ONG de América Latina un descuento sustancial en la tarifa de inscripción individual a H2LAC 2023. Este descuento debe aplicarse al momento de la inscripción y no puede aplicarse retroactivamente. Para calificar para la tarifa para ONGs, académicos o gobiernos, incluya una cuenta de correo electrónico asociada (.org .edu .gov) en su solicitud. Para confirmar su elegibilidad, comuníquese con New Energy Support.
Descuentos para grupos
¿Quiere reunir a su equipo en Río durante dos días completos de contenido y networking? Nos complace ofrecer descuentos para registros de grupos de la misma empresa. Por favor contáctenos para más información.
---
Registration rate for the main event: $1,795 USD
Register before prices increase on June 13, 2023
What's included:
Content: Access to +25 sessions, presentations and all conference stages.
Networking Receptions: Networking breaks and evening receptions provide attendees with the opportunity to form connections with the #H2LAC community and explore the latest sustainable initiatives and solutions in the exhibit space.
Market Intelligence: Access to the full 2022/23 Hinicio/New Energy Hydrogen Index for Latin America & the Caribbean.
Event Networking App: Message and set up meetings with attendees, ask questions during sessions, access conference presentations, and much more.
And More Networking: Cocktail reception celebrating the 2023 H2LAC Industry Awards winnders, coffee breaks and lunches on June 13 and June 14.
NGO | Academic | Government Discounts
We are pleased to offer Latin American governments, academic institutions and NGOs a substantial discount off of the individual registration fee rate to H2LAC 2023. This discount must be applied at the time of registration and cannot be applied retroactively. To qualify for the non-profit, academic, or government rate, please include an associated email account (.org .edu .gov) in your request. To confirm your eligibility contact New Energy Support.
Group Discounts
Want to get your team together in Rio for two full days of content and networking? We are pleased to offer discounts for group registrations from the same company. Please contact us for more information.