Wednesday, October 16, 2019 – Pre-CREF Workshop 9:30 am – 1 pm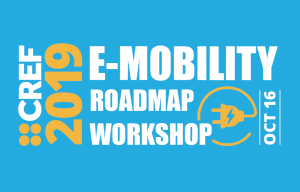 Electric vehicle uptake is on the rise in the Caribbean. In Barbados, car dealer Megapower has sold 300 EVs—more than are on the roads in many large Latin American countries. Utilities in the Bahamas, Turks and Caicos, and St. Lucia are installing EV charging infrastructure. Bermuda is developing a strategy for transitioning to an electric bus fleet, with the ultimate goal of fully transitioning the transport sector to EVs.
Yet while a few countries are making progress, the majority of Caribbean islands are still contemplating first moves. What are the key barriers to adoption of EVs in the Caribbean, and what policies can governments implement to overcome them? How can utilities, auto makers, and other private sector players help promote EVs in Caribbean nations? How can international organizations and financial institutions support these efforts?
The Inter-American Dialogue and New Energy Events, in association with the Inter-American Development Bank and the Organization of American States, are excited to announce a stakeholder workshop at the 2019 Caribbean Renewable Energy Forum designed to move the needle forward.
Participants will include Caribbean transport and energy ministers, utility CEOs, investors, auto industry representatives, and electric mobility experts.
---
How to Register
The E-Mobility Roadmap Workshop will take place before the CREF main event at the JW Marriott Marquis on October 16 from 9:30 am – 1 pm. It is an optional, additional registration item. It is complimentary for all senior Caribbean government and utility executives who should contact us to receive a code to apply to the online registration for 2019. For all other attendees, the incremental fee to attend the E-Mobility Roadmap Workshop is $475. You will be provided with the option to register for it when you register for CREF.
---
THE E-MOBILITY ROADMAP WORKSHOP AGENDA
9:30 am – WELCOME REMARKS

10:00 am – STAGE-SETTING & OBJECTIVES
Warm-up polls e.g. how persuaded are we that 100% e-mobility is a viable and worthwhile objective for a Caribbean jurisdiction?
Open microphone, room-wide discussion, based on findings of poll, on opportunities and hurdles to transition.
What are the alternatives?
What can we all agree on?

10:30 am – CARIBBEAN PACE-SETTER: LESSONS LEARNED FROM MULTI-STAKEHOLDER COLLABORATION IN BARBADOS
What has Barbados achieved to date? Current landscape for electric vehicles (penetration, policy, regulation, infrastructure)
What are future objectives? How are those objectives aligned with broader targets for clean energy transition?
What conversations took place between the private sector and the public sector to get to where we are today? Who were the key voices at the table?
What would Barbados have done differently?
What are the critical lessons learned?

11:15 am – DISSECTING NATIONAL PLANS TO TRANSITION THE REGION'S TRANSPORTATION SECTOR
Bermuda and the Cayman Islands have ambitious objectives for both a clean energy transition, and for public sector and private road-users
Have stakeholders aligned behind a common vision? What is that vision? What is the timeline?
How did that alignment happen and what can we learn?

12:00pm – INTERNATIONAL PACESETTERS
Drawing on the experience of public and private sector leaders from outside the Caribbean, this session will examine the success criteria of other jurisdictions which are currently transitioning to e-mobility, and will extrapolate best practice which can viably be applied to the Caribbean paradigm.

12:45 pm – THE WRAP
What have we learned?
What can we all agree on and has that changed over the course of the workshop?
Poll revisited: how persuaded are you that 100% e-mobility is a viable and worthwhile objective for a Caribbean jurisdiction?
What are the key takeaways?

1 pm – WORKSHOP CONCLUDES
Co-Hosted with: