"CREF is an ideal event to learn about what is happening in the Caribbean and to network with experienced industry and government leaders. The event stays up-to-date with sector developments that keep participants interested, engaged and looking forward to the next CREF." Alison Jean, CEO, National Utilities Regulatory Commission of Saint Lucia
CREF is the largest gathering of the Caribbean energy market on the annual calendar. Over 500 delegates from 50 countries participated in CREF 2019. Governments and utilities from over 25 Caribbean jurisdictions attended. Over 50 sponsors, exhibitors and partners joined the roster of CREF supporters in 2019.
This year we're excited to be virtual. The market is innovating, and so are we. New platform, new tools, more interaction, more solutions.
CREF 2020: Who will you meet?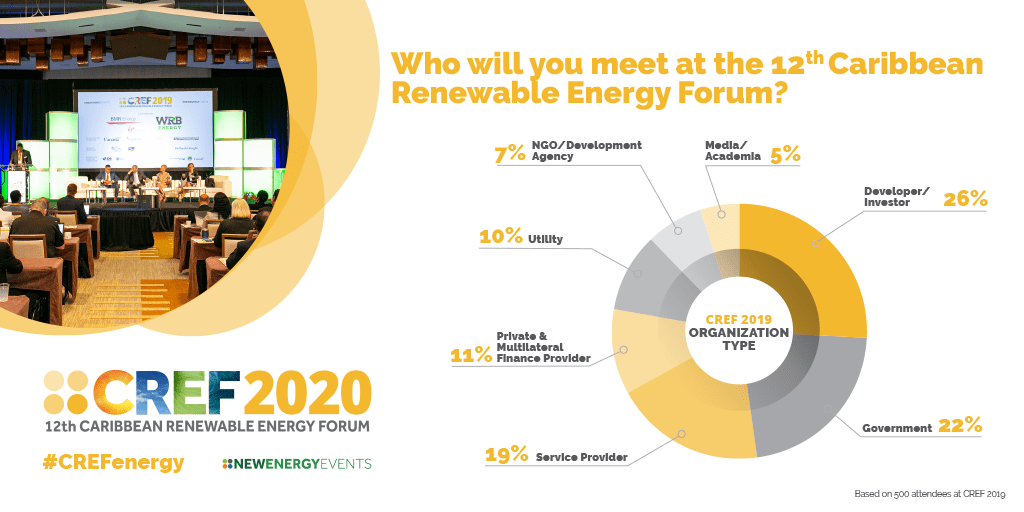 Want to see who attends? Complete this form to view a list of the speakers and attendees who joined us in Miami in October 2019.
CREF 2019 highlights – view all photos here
Aside from its size and the range of participants, here's why CREF stands out from other events:
CREF-Castalia Renewable Island Index & Project Database
All attendees to CREF have access to the annual CREF-Castalia Renewable Island Index & Project Database. The Index measures the readiness of each island nation to develop and implement renewable energy projects. The Marketplace is an extraordinary detailed database of renewable projects – both distributed and utility scale – in various stages of development.
NEW FOR CREF VIRTUAL: The CREF-Castalia Survey will gauge the impact on the energy sector of the Covid-19 crisis, and will poll for market sentiment on investment in clean energy in the new normal.
Contact us if you would like to see a snapshot of the 2019 Index.
Mission-Aligned and Supporting Regional Objectives
We collaborate closely with key regional organizations including the CDB, CARICOM, CARILEC, CDB, IDB, RMI, and others. They inform our programming, co-host our workshops, and participate on the agenda. That alignment ensures that our efforts at CREF are mission-aligned and in lockstep with market initiatives.
CREF Industry Awards
Working alongside a committee of regional and industry leaders, we recognize annually those individuals and organizations who are transitioning the region to clean and resilient energy. Many award winners are first-movers, forging a path for project development in the region. We announced nine award winners in 2019.
NEW FOR CREF VIRTUAL: An online Awards Ceremony celebrating those organizations who have kept the flame burning, and moved the needle, over the course of 2020.
As a CREF delegate you have access to our twice monthly newsletter featuring news and intelligence on the Caribbean clean energy and energy storage markets. You also have access to the range of complimentary webinars we host throughout the year. Subscribe to our newsletter (it's free) here.
"CREF is an excellent opportunity to network with energy professionals, to learn and discuss trends influencing the region, and to meet the decision makers from governments and utilities across the region. Of all the renewable energy events I attend, CREF is consistently the best investment." Marc Lopata, President, Solar Island Energy