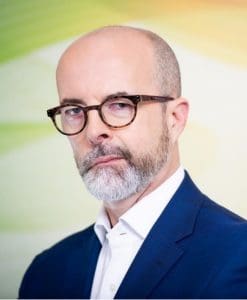 By: Jonathan Knott CMG, HM Trade Commissioner for Latin America and the Caribbean, UK Department of International Trade
When COP26 ended, I'm sure the feeling of all those present was that a lot of progress had been made in terms of ideas, projects and effective actions, but that the job was far from done. By the end of the conference, 151 countries submitted new climate plans to slash their emissions by 2030 to help keep our goal of limiting temperature rise to 1.5 degrees C within reach. I was pleased that many Caribbean countries set ambitious NDC targets and the UK remains committed to providing support and skills to help achieve these.
The UK holds the COP Presidency until COP27, which will be held in Sharm el Sheikh in November 2022. We face a busy year ahead as countries revisit their 2030 emission reduction targets and hopefully strengthen them to help meet the Paris Agreement.
The truth is that all agreements in favor of reaching global net zero by mid-century will need solid pacts, robust implementation and deep cooperation. An acceleration of commitments will increase the likelihood of success
"The truth is that all agreements in favor of reaching global net zero by mid-century will need solid pacts, robust implementation and deep cooperation."
The Caribbean is on the frontline. It is one of the most vulnerable regions in the world to the impacts of climate change. And as we think about solutions and priorities, it combines extraordinary biodiversity with abundant renewable energy potential.
In many ways, the Caribbean is leading the charge on making rhetoric become reality. Across the region, we see ambition translating into implementation. In Barbados, the Government published a National Energy Policy in 2019, with a primary focus on solar PV and growing interest in wind, biomass, wave energy and ocean cooling technology. In Dominica, the World Bank is supporting its geothermal efforts via a Geothermal Risk Mitigation project. Guyana's Low Carbon Development Strategy highlights opportunities for the development of microgrids for hinterland villages, upgrading electricity distribution networks and a wind farm with an installed capacity of about 10 MW to supply electricity to Hope Beach on the East Coast.
Elsewhere Jamaica, one of the first-movers in the Caribbean for renewable energy, has signaled its intent to generate over 500MW of new energy projects. The Jamaica Public Service Company has developed a new energy strategy to reduce the overall cost of electricity delivery, support renewable energy integration, increase grid stability and encourage customers to undertake energy efficiency measures.
The fulfillment of these and other projects across the region will be done in partnership with businesses, government and other key stakeholders. We need to pool our skills and resources to support successful delivery and realize our net carbon objectives.
On my recent visits to the Caribbean and in many conversations with the DIT Caribbean team, I'm aware of the effort the region is making towards leveraging trade to create economic growth and prosperity, moving towards a cleaner more sustainable environment and away from the reliance of fossil fuels.
As I have mentioned on other occasions, the UK Government's 10-Point Plan for a Green Industrial Revolution expects to mobilize £12 billion of government investment, and potentially another three times as much from the private sector, creating and supporting up to 250,000 green jobs. Our domestic net zero strategy will see us powered entirely by clean electricity by 2035, with the delivery of at least US$ 2 billion of funding to support net zero innovation projects, which will have implications globally.
By growing our own domestic experience and capability, the UK will be able to share its skills and experience in multiple renewable sectors, including offshore wind, solar and smart energy systems. So it makes sense for us to share this with our partners in the Caribbean to help achieve the NDC and other clean energy ambitions set out by multiple Governments in the region. I firmly believe that by pairing the UK 'offer' with Caribbean needs and asks, we can increase climate ambition, develop sustainable growth, provide 'green collar' jobs and speed up the regional transition to a low-carbon economy. Let's do this together.
---
The UK Department of International Trade invites you to visit their booth at the Caribbean Renewable Energy Forum (CREF) 2022 in Miami. Learn more about CREF 2022 here.