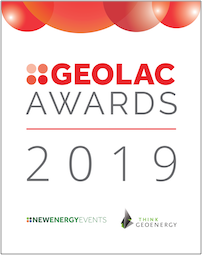 New Energy Events, the organizers of the Geothermal Congress for Latin America and the Caribbean (GEOLAC), in collaboration with ThinkGeoEnergy, are pleased to announce the opening of nominations for the GEOLAC 2019 Industry Awards to recognize excellence in geothermal across Latin America and the Caribbean.
Awards will be made across the following categories:
Geothermal Project; Geothermal Financing; Geothermal Innovation; Geothermal Project with Social and Environmental Impact and Geothermal Leadership MVP
The GEOLAC Award winners will be decided by an industry-leading Advisory Committee.
Project awards will be judged across a series of criteria, including: innovative approaches to development, value to investors and customers, and social and environmental impact.
Winners will be announced at GEOLAC 2019 which will take place in Santiago, Chile from July 17-18.
All entries must be made on the official GEOLAC Award submission form here. For more information on project award criteria, and questions on how to submit for an award, please contact Julie Taylor at jtaylor@newenergyevents.com