"CREF is instrumental in bringing together investors, developers, utilities, bankers, regulators, suppliers, and regulators and policy-makers. The opportunities for informational exchange were outstanding. If you are seriously involved in clean energy in the Caribbean, attending CREF is simply mandatory." – Dan Potash, Chief of Party, USAID Caribbean Clean Energy Program (CARCEP)
CREF was launched in 2009 to gather governments, utilities, multilaterals and investors to explore opportunities to ramp up investment in clean energy across the Caribbean. 250 delegates from 20 countries flew into Montego Bay for the inaugural event. The need – for information, for meetings, for dialog, for transparency in the market – was clear. Since then, we haven't looked back.
Today, CREF has more than doubled in size. 550 delegates from 50 countries participated in CREF 2017. 100 speakers across multiple tracks, case-studies and workshops contributed their expertise and experience. Governments and utilities from over 20 Caribbean jurisdictions attended. Over 50 sponsors, exhibitors and partners joined the roster of CREF supporters in 2017. CREF has become, very simply, the place where the Caribbean energy market meets.
Want to get a sense for who attends? Download a sample delegate list: CREF 2016 Attendee List
2017 Photos:
Aside from its size and the range of participants, here's why CREF stands out from other events:
Mission-Aligned and Supporting Regional Objectives
New Energy Events provides complimentary meeting space and logistical support for a full day of stakeholder meetings on Day 1 of CREF. Historically these meetings have been hosted by CARICOM, the Caribbean Development Bank (CDB), the Inter-American Development Bank (IDB), the Organization of American States (OAS), the U.S. Departments of State and Energy, The World Bank, and the Government of Canada.
Myriad stakeholder meetings are scheduled for CREF 2017 including a World Bank-hosted workshop for utilities focused on investment in grid resilience.
Our support for stakeholder meetings translates into an exceptionally high turnout of regional governments and utilities at CREF.
Online Meeting Platform for CREF Delegates
CREF features a dedicated networking app and platform. A closed community which features all CREF participants, the platform enables CREF attendees to create an individual profile, view all attendees, and request meetings. Attending a conference is an investment of both time and resources; attend CREF and arrive in Miami with the meetings you need to see a return on that investment.
CREF-RMI/CWR Project Awards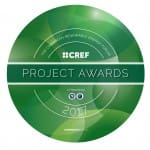 New in 2017, the CREF Awards recognizes excellence in project execution across the region. The awards represent a wide spectrum of size and technologies and are given to some of the most innovative and financially compelling renewable energy projects in the region. Supported by an industry-leading Advisory Committee and in collaboration with Rocky Mountain Institute/Carbon War Room, we announced seven project award winners in 2017.
CREF-Castalia Renewable Island Index & Project Database
All attendees to CREF have access to the annual CREF-Castalia Renewable Island Index & Project Database. The Index measures the readiness of each island nation to develop and implement renewable energy projects. The Marketplace is an extraordinary detailed database of renewable projects – both distributed and utility scale – in various stages of development.
Download the 2016 Index and Marketplace here.
Energy Storage | Partnership with Clean Horizon
As grid operators on islands world-wide ramp up on renewables, storage has become a critical issue. CREF's organizers have partnered with Clean Horizon, the leading energy storage consultancy, to augment coverage of storage issues at CREF, and to ramp up the flow of news and intelligence on storage issues to island energy stakeholders throughout the year. As a CREF participant you will have access to a dedicated energy storage workbook, to the findings of a proprietary storage report, and to a steady flow of news on storage developments delivered via our newsletter over the course of the year.
View information on the CREF-Clean Horizon 2016 Caribbean Energy Storage Report here.
Market Intelligence: At CREF – & Throughout the Year
Our Editorial Director, Julie Taylor, manages the output of a twice monthly newsletter featuring news and intelligence on the Caribbean clean energy and energy storage market. Julie also conducts numerous interviews with regional stakeholders. Recently we launched "five-in-fives" – five questions in five minutes posed, live and streamed, to a leading market participant. This – with CIBC regional head Pim van der Burg – was our first.
Subscribe to our newsletter (it's free) here.