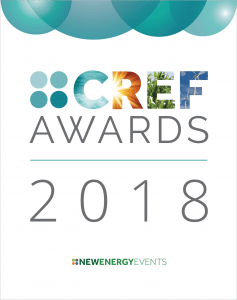 As project development region-wide continues to ramp up, the organizers of the Caribbean Renewable Energy Forum (CREF) are pleased to announce the 2nd annual CREF Industry Awards to recognize excellence in project execution across the region.
CREF Industry Awards will be given across the following categories: Utility Scale Wind, Utility Scale Solar, Energy Storage Project, Distributed Generation Project, Microgrid, Energy Efficiency Project, Low Carbon Transportation, Commercial & Industrial Project, Project Addressing Social and Environmental Impacts, and Energy Leadership MVP.
The CREF Industry Award winners will be decided by an industry-leading Advisory Committee, including Dr. Cletus Bertin, Executive Director, CARILEC; Chris Burgess, Director of Projects, Rocky Mountain Institute; Dr. Devon Gardner, Program Manager – Energy, CARICOM; Nils Janson, Executive Vice President, Castalia Advisors, Jennifer DeCesaro, Acting Director of Technology to Market Program, U.S. Department of Energy; Adam Carter, Managing Director, Head – Investment Banking, CIBC First Caribbean,; Emily Chessin, Senior Associate, The Cadmus Group; Doug Hewson, Managing Partner, Portland Private Equity; and Julie Taylor, Editorial Director, New Energy Events.
Industry awards will be judged across a series of criteria, including: innovative approaches to development, value to investors and customers, and social and environmental impact.
All entries must be received by October 5, 2018. The Awards will be announced at the 10th Caribbean Renewable Energy Forum (CREF 2018) which will take place in Miami from November 7-9.
All entries must be made on the official CREF Project Award submission form here. For more information on award criteria, and questions on how to submit for an award, please contact Julie Taylor at jtaylor@newenergyevents.com.